Page 3 of 3 •

1, 2, 3

April 21st, 2016.
So as the title says, Bipolar Game has been APPROVED FOR SALE ON STEAM!!!.
Back in 2012 (if you recall from my blog entry regarding that) I submitted the game for sale on Steam via it's Green Light Program, not expecting to ever get approved, but silently crossing my fingers that it would. In the years since, I would check on it from time to time and see it mainly get non positive type ratings from the various people on there, so COMPLETELY did not expect it to ever get approved.
Then whilst showing a friend the Green Light page for it, noticed that it had been approved. Wooohooooo

. Who knows how long ago it was approved. Shame Tom's not alive to see this happen.
So I sent a message out on Facebook to the surviving team members (Tadgh and Sasha) and only got a response from Tadge, who replied that he wanted no part of it. Sasha never replied. Waited several weeks to see if he would respond, but nope.
So to get the game ready for steam, this entails the following steps:
1. Fill out all forms necessary on Steam
2. Get Bipolar Game code to run without issue on my PC.
3. Integrate Steams SDK into the code.
Step 1 was completed last week. Wasn't overly difficult, just had to fill in forms about my details etc etc.
Last night I set to work on getting the game to first run on my computer for step 2, which turned into a nightmare in itself and had to some slight changes to some variable names + get it to compile in Release mode (we`d never been able to do that back in 2010), and by the following day I'd got that side of things done. So now, need to get the Steam SDK integrated into the game.
Plan to do that over the weekend, as just getting the game to run was a nightmare in itself. Especially as I'd not done any programming in 2 years.
Will update on progress in the next entry.

_________________
Old habits die hard - System Shock
20th of April, 2016
So after spending the weekend preparing various images for the store page, Bipolar Game is now available for purchase on steam here:
http://store.steampowered.com/app/463450/
In terms of views, I have to say STRAIGHT AWAY that the difference between Steam and Desura on this is MASSIVE. In 2 years on Desura, the game only got like maybe 1,000 views total. In 2 hours of the game being up on Steam for sale it already has 61,796 views which is just CRAZY. Of note is that sales have been mega low. Only 3 so far, but in all the time it was on Desura it got 13 total. Only needs another 10 to level.
It got something like 30-50 when Tom placed it up on the Mac App Store, so let's see if it can beat that

.

_________________
Old habits die hard - System Shock
Sunday 24th of April 2016

Stats since my last post:

Views: 1,442,857
Sales: 25

Gross Revenue: $103

Now the first million views was primarily due to game being featured on the main page. The way that Steam treats it, is that they show newly released games on there until a million views is reached. That combined with sales during that period of time helps to create a clicks to sale ration. The average for most indie titles is 0.24%. Bipolar Game's by the point of hitting 1 million was 0.85% which is a fair bit better.

All views since the million mark, have just been via random searches etc. Sales at the point of 1 million were at 21. So only been 4 since.

On placing the game up on Steam I immediately got offers from various people representing different websites, and one person just wanted a free key which I declined. Of the people I've decided to go along with getting the game into a bundle with a site called "indieGala", where I provide them with 20,000 keys (God damn) and they bundle my game in with a sale of several others and I get a share of the profits. Hope all goes well there. The other person I helped out, was a person representing a Twitch show. So to assist I gave her 1 key. Hopefully this all results in greater sales.

Derrick Martin of Monash, also has helped out with promoting the game which is a GREAT help. Friends and family have helped spread the word as well.

_________________
Old habits die hard - System Shock
Saturday the 21st of May 2016
Quick sales update.
Stats since last update:
Sales (directly through Steam): 33
Gross Revenue: $142
Sales via indieGala: 1,530 (roughly)
Gross Revenue: $303
Total Gross Revenue: $445
Why so little amount of $$$ for the indieGala sales despite the HUGE sales amount? Well they work off a "pay what you like" model which I'm half half about. On the plus side it's better than the direct sales via Steam. Still be nice to have got double that but ah well.
1 user requested the game be available for Linux, so I setup a virtual machine, installed Green Mint (it's one of many types of Linux you can use) and attempted to get that working. 3 days later I got the editor working, and got the code to compile fine without issue but the game wont run yet. I have a sneaking suspicion that it's the SDL sound
that is the source of that problem. When I get the time I'll do my best to resolve it.
Monash got in touch with me to do an online interview on Bipolar got. They sent through some questions and asked for some photos, and that was that. Love how Monash has kept in touch with me over the years. Never had that experience with any other education related institutions I've had anything to do with. Got nothing but alot of love and respect for the institution.
And that's about all there is to say for now

.

_________________
Old habits die hard - System Shock
27th of September 2016
Sales update.
Stats since last update:
Sales (directly through Steam): 68
Gross Revenue: $215 (US)
Sales via indieGala: 2,094
Gross Revenue: $403
Total Gross Revenue: $618 (Roughly)
So I got some revenue via both sources over the past few months and I've started a new job in that time. What job is that? Tutoring at Monash University

. I'd been offered this several years prior via Derrick but had declined due to lack of self confidence + the fact that I'd never done it before. This time round I thought bugger it, try anything once and see how you go.
At first I was ABSOLUTELY TERRIFIED, but by the end of the first tutorial I was far more calm with it. At first I was only tutoring in 1 class (FIT3146 - Emergent Technologies and Interfaces) then after week 4 I was offered FIT3063 - Human Computer Interaction after the tutor for that dropped out mid semester. The second subject overall is the scarier of the 2 as far more prep is needed + is a more strictly run unit in regards to the allowed time for marking etc. Speaking now, it's the mid semester break (was up to week 9 prior to that) and I'm doing quite well in it I think.
And MY GOD is the money great. From only 2 hours work tutoring I get $253.22 ($126.61 per hour) and $42.20 for each hour spent marking. That is just CRAZY money. To compare - I get more from 2 hours work than I did from 2 full days of work doing tech support in call centers. Crazy. It's quite fun work too. VERY different to call center work. Much more relaxed, and is more in tune with my games development interests (more FIT3146 than the other).
In 2 weeks I'll be presenting about Bipolar Game's Steam release which = more extra cash + will be just fun in general to be presenting about the game. I look forward to it.
The future looks bright and positive which is just so great to be able to say, after the horror year that was 2015, with my fiance's mental breakdown and me having to quit my job at the time to be there for her. Things are just so much better and full of opportunities now. I hope my tutoring work at Monash continues as it gives me far more options in terms of what to do with my time, and I can run my eBay business in tandem with it without any issue.
More in the next blog entry.

_________________
Old habits die hard - System Shock
18th May 2017
Damn. I've really not posted anything in a VERY long time. Nearly a year. Dayam.
Well, the presentations went great. As did tutoring, which was a FANTASTIC experience, and which helped me in getting together a deposit for a mortgage. Originally I was approved for a mortgage and went out in search of a place, but then that fell through (but I kept the deposit) and my parents got a mortgage sorted with my deposit as capital for that.
Be moving to Frankston in about 2 months which will be a big life change. Be getting married late this year also, which is another big life changer.
My tutoring work at Monash which in my last blog post looked like the beginning of a wonderful new journey all fell flat a few months after my last post. In January of 2017 the government put in place new guidelines for what is required for tutoring. Where before you only needed to have attained an education equal to the level of the unit you were teaching, that has now changed to needed to be 1 level higher in-order to be eligible. This means that in-order to teach again what I taught in 2016 I would now need a honors degree or higher. Initially I had high hopes that my past semester of experience would get me past this requirement, sadly this was not to be the case, and I have had no further tutoring work

.
I could go and do honors but even then there is no guarantee that I would get work afterward AND I have a mortgage to pay, so that's just not do-able. Absolute pain in the ass. Life is very annoying sometimes.
On the games dev front, almost nothing has happened since the last blog post. I do bits of work on episode 2 of Shadowrun Returns UGC here and there, and MUCH of my free time now is taken up with building up my Ebay / Gumtree / Facebook Marketplace small business of buying and selling retro video games. Brings in a nice trickle of extra cash for me, here and there. I hope it will keep Muna and I's heads above water with the mortgage + weekly bills. Time will tell.
The UGC is so close to completion it's not funny. All I have left is the final section of a quest + 1 final main quest and that's it. The rest is all done. When I get that done I really need to get back into coding games properly again. It's just hard to keep the motivation and momentum going after so long. ESPECIALLY after the 2 and a bit year development time of Dragon's Castle.
Wish me luck in the months ahead

Hopefully my next post will be more upbeat.

_________________
Old habits die hard - System Shock
August 13th 2017
Well the tides have turned again.
Since my last entry, I was able to get back into tutoring at Monash for semester (which as of this blog I've done 3 weeks of) and I've moved into the place in Frankston. The pay from Monash helps pay the mortgage repayments and then some. Trouble being that when you move into a new place, upgrades and extra equipment (like clothes washing machine, dish washer, heating system, fixes for broken stuff etc etc) are needed, and so so far I've not been able to put anything extra toward the mortgage yet. Grr.
The plan is to save up $7.5k and put that into it, to bring down repayments to $330 per week (currently its $337.5 per week) to help assist us in being able to afford the weekly repayments once my tutoring work for semester 2 comes to an end and the 4 months of non work begins.
So for tutoring this semester I'm teaching C++ programming, game design studio 1 (which is all about paper prototyping) and emerging technologies which I taught last year. To compare to last year, I'm doing roughly double the amount of work hours and about double the money. So that's great.
Ebay business continues to bring in a nice trickle of cash per week. Now that I'm living at Frankston I have the space to expand somewhat, so I've bought a N64 and will be selling games for that console (alongside the consoles I already sell games for) which = more cash coming in once stock for that is sufficient.
Still haven't finished making the UGC for Shadowrun Returns, but this week I've returned to working on it, and plan to get a good chunk of that done (when I have the time) before I go back to gaming again.
Hopefully will be further good news in the next blog update.
Stay tuned

.

_________________
Old habits die hard - System Shock
November 1st, 2017
This is just a super quick post to say hello to any new readers from my Game Studio 1 unit if you happen to be reading this

.
I'll do a much bigger blog later in the future.
PS: I'm getting married in 2 days. How things change so quickly.

_________________
Old habits die hard - System Shock
2nd May 2018
Well that big blog never happened. Been so busy. Got married in November (that was overall great, but very chaotic), kept working, then came summer holidays. Needed something to work on. Prior to Christmas I worked quite a fair bit on getting the SDL port of Fishing Time completed. I'll say that I got a significant amount of the work on it done. But did not get it finished off since something else better came along later which stole all my time away.
Along came Christmas, and a gift from an auntie was a scratchy ticket. This type of scratchy I'd not seen before as it featured a crossword and you having to scratch off 20 letters which you then crossed off on the crossword. This was a scratchy with a nifty game mechanic. I took the crossword back home with me, and thought on it some. Then came my light bulb moment where I thought "hey why not add in the game mechanic of 3's. 3 re-rolls (for the game) for revealed letters and 3 moves on the board (if it's against an opponent). Immediately the game name "CrossTrix" came to mind. Checked online and the name wasn't taken, so that name stuck from then on.
Knowing that the game was going to work off premade levels done in a modified version of the level editor I created for Dragon's Castle, I immediately got to work on the game. Creating the initial letter tiles.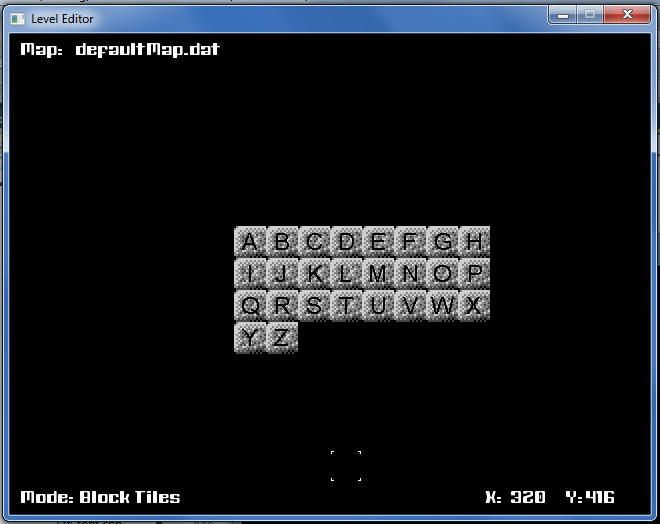 I then got to work modifying the level editor for Dragon's Castle to be scaled back quite a bit, so that it would stick to a single screen, and only work off block and letter layers. Once I had that in, I could start making levels even though the basics of the game engine weren't in.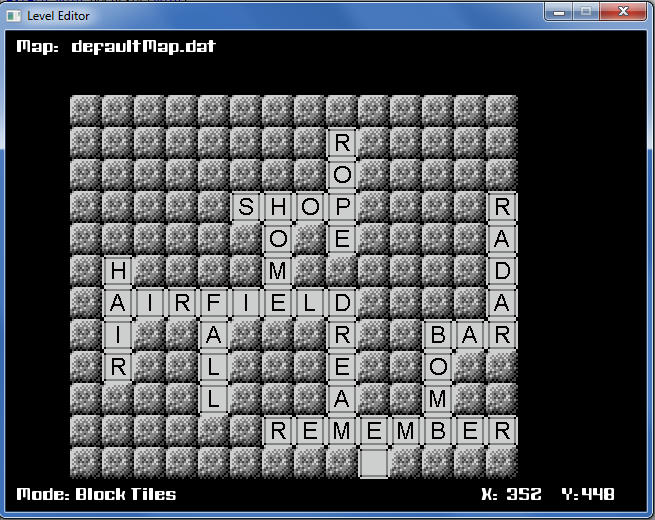 Was a nice change to have a level editor usable, practically from the beginning of development, rather than as a later on aspect. The original plan was to try and get this game 100% done as quick as possible, and out there. So I enlisted level making duties to others (my wife, and some members of my favorite web forum TTLG.com) to get some more done. I had been hoping for 50 or so levels to be done this way, but unfortunately only about 6 or 7 done combined via this method. I did a few more levels and got the total to 13 levels done total.
With a few levels to test out, I started on the game engine proper. Initially it started out as a vastly ripped out version of Dragon's Castle with nearly everything taken out besides the map drawing. Level drawing was easy to implement and I had that up and viewable in no time. Coming up with a UI took some time, but I eventually came up with: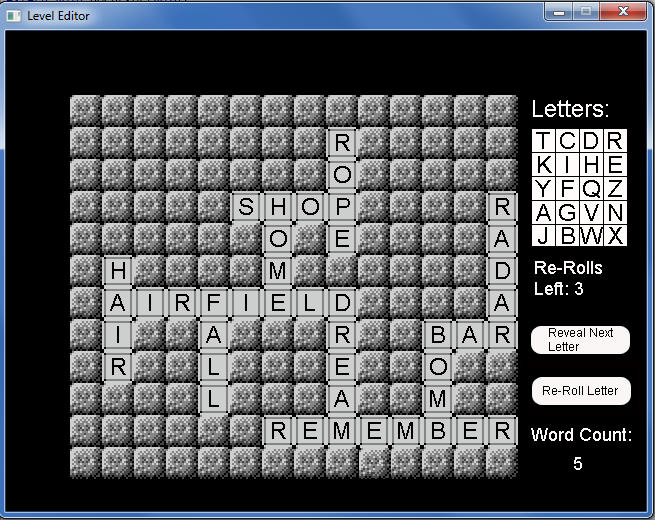 Which gave me a good starting point when creating this in-game and for working out what keyboard input to have in there, to test out gameplay. I really wanted a mouse interface this time around (as all of my other solo games were keyboard and gamepad only), but put mouse stuff off till later. Worked on the game constantly for the next few weeks and got the revealing of letters working (both functionally and display wise) and re-rolling for a better letter. At this point in time it would just show all the instances of a revealed letter instantly. For every letter scored the player receives 5 points.
With version 0.2 of the game this changed to the "scored letters" lighting up 1 by 1 as well as the scores added for them. Note that this was implementation of the first of 3 game modes. This starting game mode was the easiest planned and was known as "Score Attack Mode" where all instances of a revealed letter score, and the goal is simply to reveal all hidden letters, re-roll the ones you don't like and proceed to the end, end your turn which allows player 2 to begin who must then try and beat that score. At this stage, players 1 and 2 could only be controlled manually.
Version 0.3 - Brought one of the biggest changes to the game (and my games dev works as a whole) with the upgrading of my SDL libraries over to SDL2, which then required some extensive changes to the display and texture displaying code to get everything working. This took around a week or so before everything was working properly. What instigated my move to SDL2 was due to 2 features I wanted to have in, but which SDL 1.3 did not allow for:
* Display of text to screen without a background color being behind it, as this made display of text tricky. Always had to be careful where to place it. Otherwise you'd notice the back color.
* Fading to screen and fading in of textures. For the revealed letter tiles in score attack mode, I wanted the scored letters to fade onto screen.
* Actual clickable screen UI buttons that could be clicked on with the mouse
* Use of sprite sheets. I'd been wanting something like ever since Dragon's Castle. SDL2 has some good tutorials for use of this.
Version 0.4 - Brought the last of the SDL2 change overs, with the change to using a render for all display and this allowed for the font and fading of textures to be do-able. The only catch here was that since I wasn't using SDL_Surfaces anymore for textures that it was all more tricky for texture display. Converted over several of the draw functions from other games I worked on, such as Fishing Time and Dragon's Castle. A new mouse interface was added in. This MASSIVELY improved the game. A new mechanic of fully filled in / completed words having an outline around them and the player receives 100 points instantly. I changed the game to use a randomly generated map list in this version. Spritesheets implemented for the buttons. Very nifty.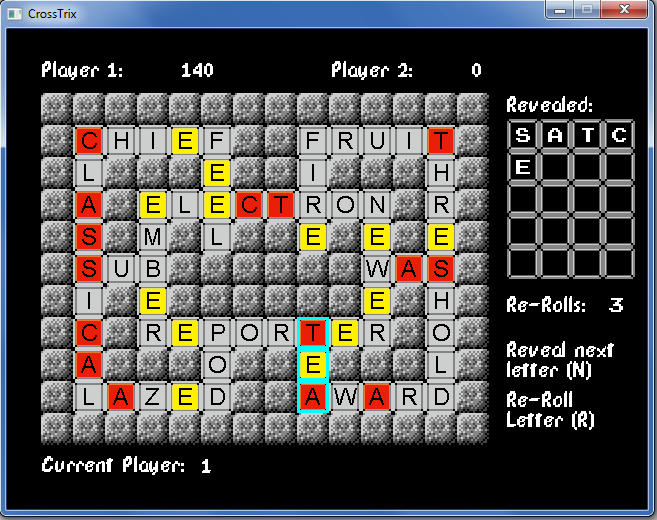 Version 0.5 - Completed words now got their own tile color. Purple. Changed the score mechanic for completed words to 10 points per tile. Did this since it was unbalanced. Fixed quite a few bugs since the game was fully playable from start to finish with both players now with scores displayed, winning player mentioned etc etc. Changed SDL2 files over to 64 bit versions to fixup release version issues. Temporary outlining of completed words disappears after one turn now, replaced with purple after. Started adding in sound effects. Game desperately needed some. Sounds for word completion, player 1 turn end, re-rolling of letters and victory added. Computer opponent added in for score attack mode. Only has basic AI for this mode, but only basic was needed and it works fine with the few lines of code I gave it to decide what to do each turn.
With this the first game was fully implemented and working. I then put some thought into what other game modes I wanted in the game, and decided on two addition modes (where you'd see far more of the use 3, hence the "Trix" in the games name). To be added in would be "Strat Mode" which was the restriction to the player only being able to select 3 of the now temporary (for strat mode and the other to be added mode) tiles. Adding much more strategy into the game. The other mode I came up with was "Versus Mode" where both players play on the same screen, taking it in turns, using the 3 letter tile selection (via the mouse). Emphasis for this mode being on completing words and "absorbing" any scored letter tiles within the inside of any newly selected tiles, and removing the score of those scored tiles from the opponent.
Version 0.6 - "Strat Mode" for 2 player mode implemented. Re-rolling for a better letter in this mode (and to be for versus mode) when moves left are greater than zero. Fixes for completed word checking implemented.
After this, I returned to tutoring work for Monash University and so work slowed down quite a bit to bursts of work here and there, when time and motivation allowed.
Version 0.7 - Fixes to scoring of completed words. Further fixes for checking of completed words. 2 player versus mode implemented, with absorbing of opponent scored letters also implemented. Different colors for player 2's scored and completed tiles added to add some visual differences. Sound effect for absorbing of opponent tiles added.
Version 0.71 (current version I'm working on and off on) - Fixes for where letter placement is allowed. Major fix for a bug that was using the wrong update code used. It is supposed to use a separate update function based on the current game mode. Added in a computer opponent for Versus Mode, which works off some of the theory one of the units that I'm currently teaching (Artificial Intelligence). Works great, and thanks to the FSM (Finite State Machine) that it uses, various tactics that it uses will be toggable based on a possible difficulty setting I may add to the options screen later on. Added another 4 levels.
The current state of the game looks like: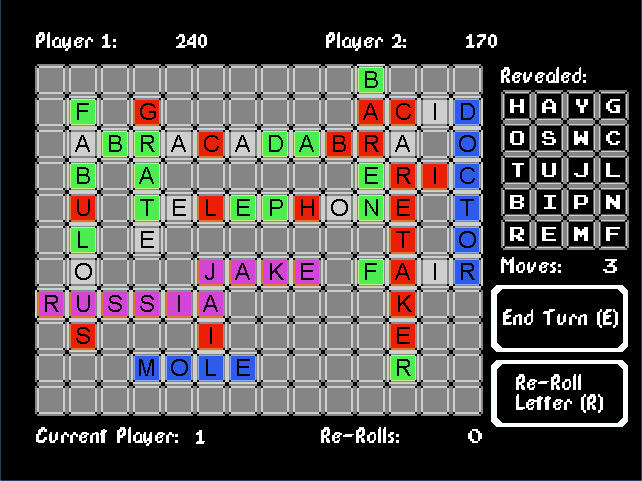 What's left to do:
* Fixes for absorbing of opponent tiles. Checks for existing completed words of the opponent aren't made (of the absorbed tiles). The effected completed words need to return to standard scored tiles and remove the score bonus from those tiles. Newly completed words of absorbed tiles is not checked for either. This one occurs only on rare occasions, since it does not happen very often at all in gameplay but is still a needed feature.
Having that done will 100% finish versus mode.
* Computer opponent for Strat Mode. Much of the code from versus mode should be re-usable here, besides absorption.
* More sound effects.
* Music
* Menu with animated background behind it
* Options screen
* Intro screen (done in the style of my Dragon's Castle intro)
* Get level count up to a minimum of 50 levels. Preference is 100.
Then the game will be done and I'll try and get it on Steam

. This being 100% my own work, I want to make the game the best version that I can of it. Been quite busy with work and playing of games, but I intend to get this done.
More in the next blog entry.

_________________
Old habits die hard - System Shock
15th September 2018

So my last blog entry ended with this todo list:

* Computer opponent for Strat Mode. Much of the code from versus mode should be re-usable here, besides absorption.
* More sound effects.
* Music
* Menu with animated background behind it
* Options screen
* Intro screen (done in the style of my Dragon's Castle intro)
* Get level count up to a minimum of 50 levels. Preference is 100.

Of those, the following are now fully done or implemented:

* Computer opponent for Strat Mode. Much of the code from versus mode should be re-usable here, besides absorption.
* More sound effects.

I currently have 5 music tracks done, and I'd like to get two more completed at some point. They don't take that long at all to do honestly, but it's just the matter of sitting down and making them. Have to be in the right zone. Of levels there are currently 25 in-game. I'd like to at least get another 25 done. Again their easy to do, but it's just the sitting done and doing them. Plus you want to try and ones which have unique design styles. All the rest of the features should be super easy to do. Then I can have this game fully completed and hopefully on Steam. Be great to have a second game on there that is 100% my own. What I do after that I dunno.

Been a mountain of real life problems getting in the way of everything for a good part of the year that COMPLETELY derailed both my tutoring work and just life in general, which started not long after the time of the last blog entry. It looks to be fully over now, but time will tell. I hope to have it beyond me.

_________________
Old habits die hard - System Shock
Page 3 of 3 •

1, 2, 3


Similar topics
---
Permissions in this forum:
You
cannot
reply to topics in this forum